Trusted HVAC
Installation & Service
in NW Harris County
Serving Tomball, TX and Surrounding Areas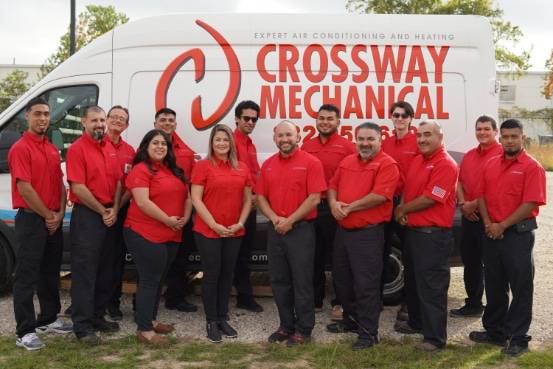 Our family has been serving the NW Greater Houston area for over 20 years. We provide skilled and personalized service for your residential and light commercial HVAC needs. We at Crossway pride ourselves on integrity, honesty, fair prices, and timely service.
At Crossway Mechanical, we enjoy working on commercial and residential equipment and service and repair all brands of equipment. We have a top notch installation team who takes pride in the quality of their work. We believe Crossway Mechanical is the best company to take care of your needs.
See What Can We Do for You

If something isn't installed correctly, it won't work as it should. This is especially true of air conditioning (HVAC) equipment. So, it's important to make sure your local HVAC company service technician is experienced, trained, certified, qualified, and backs their work.

Learn More

Your home's indoor air quality matters for the safety of your home, your family's health, with energy savings and lower costs. Learn more about picking the best and most affordable system for you available. Get your home tested and begin breathing easier today!

Learn More

Don't be uncomfortable this winter! A central gas heating system provides steady warmth that keeps you tucked up snugly in your home. A great furnace can give the best balance of comfort, cost-efficiency, and atmosphere for your home.

Learn More

Ductless AC systems provide good ventilation, while trapping airborne particles that affect indoor air quality, jeopardizing family safety and comfort. Learn more about how cleaner air lets you breathe better.

Learn More
Trusted Air Conditioning & Heating Services in Tomball, TX
At Crossway Mechanical, we believe our customers deserve the best AC services in Tomball, TX. And that's what we've been providing in the NW Greater Houston area for over two decades: top-quality HVAC repairs that keep families comfortable, no matter the weather.
Air Conditioning Repair In NW Harris County
As residents of your local community, the team at Crossway Mechanical knows what you are going through when you reach out for air conditioning repair In NW Harris County areas.
See What Our Clients Are Saying
100% Satisfaction Guarantee
Air Conditioning Repair In NW Harris County