Ductwork Services Cost Near Tomball, TX
Crossway Mechanical Ductwork Services Tomball
Ductwork Services In Bellaire, Conroe, Cypress, Hockley, Houston, Humble, Jersey Village, Katy, Magnolia, Montgomery, Pinehurst, Richland Hills, Richmond, Shenandoah, Spring, The Woodlands, Tomball, Waller, West University Place, Willis TX and Surrounding Areas
Are you looking for a highly esteemed HVAC company that can take care of all your ductwork requirements? Whether you need ductwork installation, cleaning, or a repair, Crossway Mechanical has got you covered. Ductwork is a network of pathways and vents that circulate warm and cool air from your HVAC unit into your home. Although ductwork offers quite a tedious installation, they provide several benefits to your home. They are cost-effective as they use less energy, when correctly maintained, and they provide a longer lifespan for your HVAC unit. Ductwork improves health in your home as it filters out any allergens or pollutants that can be harmful to you or your family. You also get to enjoy comfortable temperature control throughout your household without having to worry about uneven airflow. Speak to our friendly team today for any of your ductwork concerns. We will gladly assist you.
Crossway Mechanical is the most reliable and efficient ductwork installer company in Tomball, TX- contact us today!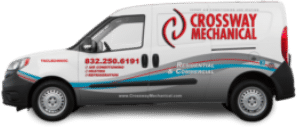 Common Ductwork Installation Issues
Always leave ductwork installation to a professional and reputable HVAC company as a poorly installed air conditioner ductwork can cause many unwanted issues in your home in the long run. An improperly designed and installed ductwork system is just one of them. This hinders the supply and return of cool or warm air, thus preventing consistent indoor temperature control. Leaking ductwork can cause havoc in your home by allowing harmful contaminants to enter your home that can compromise your air quality. Loose grills and registers or twisted ductwork can cause restricted airflow, thus requiring your HVAC system to work much harder while increasing power usage. All this can be curbed if you hire the right ductwork installation company. Crossway Mechanical will give you peace of mind as our experts will get your ductwork correctly installed the first time around. Ductwork cost does have to leave a hole in your wallet. Come on down to Crossway Mechanical for affordable ductwork installation today.
Cleaning and Repairing of Ducts
If your current ductwork requires cleaning or repairing, Crossway Mechanical will gladly get it done for you. The ductwork in your home goes through much all year long as it has to keep up with the daily demands of warming and cooling your space. Therefore, as time goes by, dirt and debris build up in and around the ducts. Therefore, hire Crossway Mechanical to take care of your ductwork cleaning needs. Are you interested in a ductwork replacement or a ductwork repair too? Well, if your home has ductwork that is old, damaged, or not functioning correctly, then a repair or replacement is necessary. Crossway Mechanical will provide you with professional ductwork services at affordable prices.
Crossway Mechanical Ductwork Tomball, TX
Crossway Mechanical ductwork services offer professional ductwork cleaning and repair services to ensure a healthy and high-quality environment for your family. Our experts will drive out to your home or business to assess the ductwork service you require and advise you on your best options and cost-effective solutions before we commence.
Have a look at our customer reviews to find out what our clients have to say about us.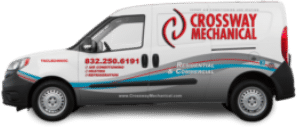 Give Crossway Mechanical a call on 832-250-6191 to book an appointment for your ductwork Tomball, TX, today.
Air Conditioning Repair In NW Harris County