Air Conditioning Repair Tomball TX
Are you tired of sweating through scorching Texas summers? Does the thought of your AC unit breaking down in the middle of the night make you cringe? If you're facing AC problems and need AC repair in Tomball, TX, Crossway Mechanical is your go-to source.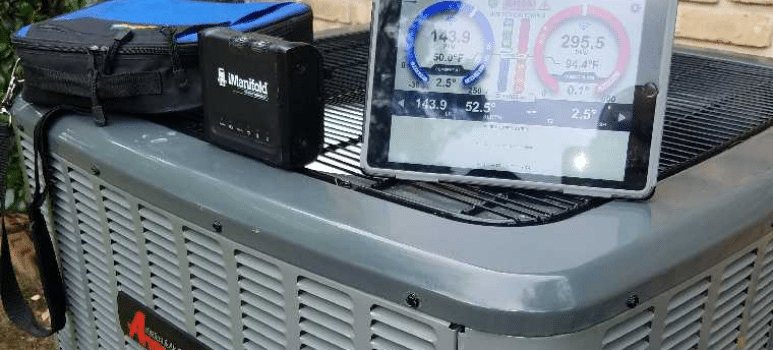 Our experienced and certified technicians are trained to diagnose and repair your AC system quickly, so you can enjoy the cool relief you deserve.

We offer a wide range of services, including maintenance checks, 24-hour AC repair, ductwork installation, HVAC unit replacement, coil cleaning, thermostat repairs & replacements, and more. No matter what type of AC system you have, we can help.

With years of experience and a commitment to customer satisfaction, you can trust us whenever you need AC installation, repair, or replacement.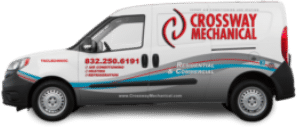 Overview of Our Air Conditioning Repair Services
Your air conditioning system is a vital part of your home, and if it fails during the hot summer months in Tomball, TX, you need help fast. Our team provides reliable air conditioning repair services to restore your comfort quickly. Here's an overview of our services to help you get your system up and running again.
AC Diagnosis: Our team will begin by diagnosing the issue with your air conditioning system. We'll use various diagnostic tools, such as infrared cameras and thermal imaging, to pinpoint the source of the problem. This helps us determine the best course of action to get your system back up and running as quickly as possible.
AC Repairs: Our technicians can quickly identify necessary repairs and carry out the work promptly. From simple fixes like worn-out parts replacement to more complex wiring repairs, we have the skills and experience to ensure your AC is fixed. We also use quality parts designed to last, so you can be sure that your repairs will last.
AC Maintenance: Regular maintenance is the best way to ensure your air conditioning system runs smoothly and efficiently all year round. We offer comprehensive AC maintenance services that include cleaning, tune-ups, and checking for worn-out parts or any other potential issues. With regular maintenance, you can avoid costly repairs down the line.
If you're wondering whether to try to keep your old unit running or upgrade to a new system, we'll provide a second option for air conditioner replacement or repair.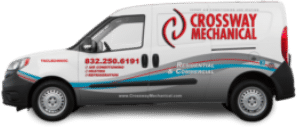 Warning Signs You Need an Emergency AC Repair Tomball TX
Before you experience a full-on AC breakdown, you may notice some signs that your unit requires immediate attention. If you experience any of the following issues, contact us immediately for AC repair emergency services:
Unusual Noises: Any loud noises from your AC could indicate an issue with the motor or other components inside the unit.
Unpleasant Smells: If you smell a burning odor, it's likely that your AC is overheating due to a malfunctioning fan or blocked air filter.
Leaks: If there are any signs of water leaking from the AC unit, this could mean a problem with the drainage system or a clogged condensate line.
High Energy Bills: If your AC bills are unusually high, the unit is not working as efficiently as it should be, costing you more money than necessary.
Don't let any of these issues go unchecked – call us immediately for emergency AC repair near Tomball, TX. We are available 24/7 and can keep your home cool and comfortable again.
Your home deserves the best, and with Crossway Mechanical, you can rest assured that your AC replacement or repair needs will be taken care of efficiently!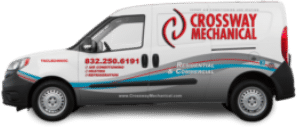 How Much Does Air Conditioning Repair Cost in Tomball, TX?
The cost of a residential or commercial air conditioner repair service will depend on the type of service needed. Minor repairs, such as thermostat changes or coil cleaning, may have a lower cost than more significant repairs, such as replacing an entire HVAC unit.
The only way to know for sure is to contact our company for a detailed estimate. On average, the air conditioner repair cost in Tomball, TX, ranges from $150 to $800, depending on the type of repair needed.
SEER Energy Savings Calculator

We consider the size of your unit, the age of the system, and any additional services that may be needed. We provide upfront pricing so you won't have any unexpected costs after completing the work.
Professional AC Repair Tomball TX
Whether you are looking for experts to help with central air conditioner repair or you consider a full replacement, you can trust Crossway Mechanical to get the job done right. We are one of the best air conditioning repair companies in this area.
Our main goal is to restore your home's comfort and convenience while keeping costs low. Let's run over the key reasons why your neighbors trust us to handle their AC repair needs:
Experienced Technicians: Our professionals have years of experience in the industry and are up-to-date on the latest advancements.
Affordable Prices: We offer competitive prices and will ensure you understand what must be done before starting a job.
Quality Repairs: We use only the highest quality parts and materials to ensure a durable, long-lasting repair.
Guaranteed Satisfaction: Our customer satisfaction guarantee means you can trust us to do the job right the first time.
Don't suffer in the heat! Contact Crossway Mechanical today at 832-753-1980 for fast and reliable AC repair Tomball TX. Schedule your appointment now!
FAQ Related to AC Repair Tomball TX
How do I know if my air conditioner needs repair?
Some common signs that your AC may need repair include: strange noises or smell coming from the unit, weak airflow, uneven cooling, frequent cycling on and off, and higher energy bills. If you notice any of these issues, scheduling a professional AC inspection and repair is the only right decision.
How long does an AC repair take?
It depends on the type and severity of the problem. Some repairs can be completed within an hour, while others may take several days. Your technician should provide you with an estimate of the repair timeline before beginning the work.
My AC unit doesn't turn on. What could be wrong?
There can be a variety of causes, from a broken thermostat to a faulty compressor. In this case, you need to contact a professional air conditioner repair service. Our technicians will be able to diagnose the problem and provide you with an estimate for repairs.
Can I prevent AC problems from occurring?
Yes, regular maintenance and tune-ups can help prevent AC problems from occurring. It's recommended to have your AC system serviced at least once a year to ensure it's running efficiently and to catch any potential issues before they become major problems.
Air Conditioning Repair In NW Harris County